The Deming Route
to Quality and Productivity:
Road Maps and Roadblocks
Second Edition in ePub format for your iPad
ISBN: 978-0941893-00-8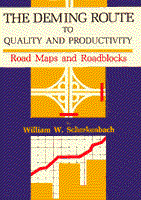 This is the brand new Second Edition of Scherkenbach's first book. The first edition has gained world-wide acceptance since being published in 1986, and demand for the book continues. More that 300,000 copies have been printed so far in English, French, Spanish, Portuguese, Rumanian, and Chinese. This book presents each of Deming's 14 Points, offering analysis and explanations based on years of study with Dr. Deming. Based on his positions at Ford, Scherkenbach offers his insight in guiding the Company's drive to make the 14 Points part of corporate life. This English language Second Edition updates Dr. Deming's philosophy and its implementation from Scherkenbach's own extensive experience in China.


This Second Edition Deming Route for Quality and Productivity is available in English on the Amazon website for your Kindle.
There also is an enhanced version with videos and audio on the iTunes website for ibooks. Please go to those websites for direct payment and downloads or just click on the hyperlinked Amazon or iTunes in this paragraph.